Beach Wedding Invitations
So, you are getting married at the beach, in a beautiful tropical setting.
You have the travel plans taken care off, you have chosen what wedding dress to wear, you have decided on who to invite, but, have you thought about the wedding
invitations
?
Do you know you do not have to use the boring old style of invitations. Nowadays many options are available for themed weddings.
Beach weddings are especially fun and colorful, so the invitation choices are many. You can choose from invitations with seashells, sand dollars, star fishes, palm trees, and of course, beach and ocean scenes.
Take a look below at the many choices available: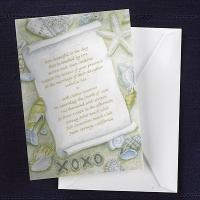 Wedding at the Beach
The bright white translucent invitation will set the tone for your wedding at the beach.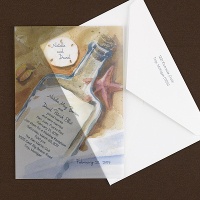 Message in a Bottle
Put your wedding message in a bottle and send it off to sea with this unique invitation. The invitation is printed on translucent paper, which makes it even more interesting to wedding guests.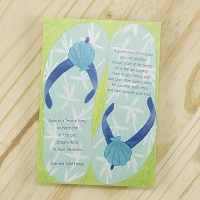 Shoes for the Sun
If you're going somewhere out in the sun make sure to choose this fun flip-flop bright white party invitation. Whether you're planning a wedding, couple shower or a backyard bash this invite will create a sun-filled good time. First 4 lines of verse will be printed on right flip-flop.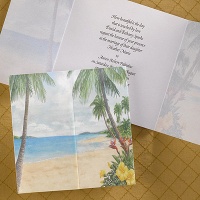 Tropical
This bright white translucent invitation features a beautiful ocean scene.